Dr. Sigal Tepper
Dr. Sigal Tepper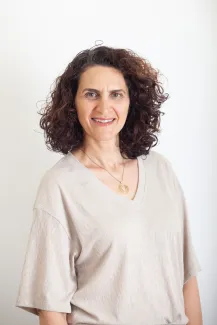 Accordion Title Areas of Interest
Areas of Interest
Sustainable Nutrition
Nutritional epidemiology
Accordion Title Biographical Info
Biographical Info
My bachelor's degree was in Nutrition Science and Biochemistry, and my master's degree and doctorate were in Epidemiology and Preventive Medicine. After concluding my studies in Nutrition Sciences, I began working as a dietitian in a multidisciplinary obesity clinic, in a program to prevent obesity in children, and as a clinical research coordinator in the Diabetes Unit at Sheba Medical Center (Tel Hashomer). Concurrent with my work as a clinical dietitian, I continued my master's and Ph.D. studies. Throughout the years after my doctorate, I started studying sustainable nutrition. I believe the sustainability consideration is a "missing link" in healthy diets, as manifested in many global dietary recommendations published in the past four years and recently (April 2019) in Israel's nutritional guidelines. Therefore I joined the Israeli Forum for Sustainable Nutrition (IFSN - https://english.ifsn.org.il). This professional, multidisciplinary forum is dedicated to establishing a national sustainable food system and food security for all Israelis. The forum is a consumer advocate composed of scientists and health-related professionals in the food field. We advocate for government policies on health, nutrition, and the environment supported by scientific evidence. To better understand sustainability, I attended the Fellowship Program at the Heschel Center for Sustainability. This enabled me to develop a more systematic overview of nutrition and where it fits into the larger picture. Consequently, I came to my current field of research, combining nutrition and the environment.
My current research is designed to study how various nutritional patterns affect the environment (utilizing a Life Cycle Analysis (LCA) of local products) and the best interventions to facilitate healthier more sustainable improved public nutrition. We developed and validated an index for measuring healthy and sustainable nutrition and continue to work on different methods to assess and improve sustainable nutrition.
Accordion Title Research
Research
Nutrition epidemiology and healthy and sustainable nutrition.
Developments of models for healthy and sustainable diets based on food purchasing and consumption
Exposure assessment to foods' contaminates, including food additives, pesticides, packaging
Associations between dietary patterns and healthy and environmental outcomes
Associations between ultra-processed products with health and environmental outcomes
Accordion Title Teaching
Teaching
Introduction to Epidemiology
Advance research methods in nutritional epidemiology
Between industry and science: a critical evaluation of issues in nutrition and public health.
Dietary Supplement in human health
Sustainable nutrition
Nutrition, Health, and Environment
Scientific reading and writing workshop
Food environments – designing of food environments and food choice architecture, community service learning
Accordion Title Publications
Publications
Lerman Y, Chodick G, Tepper S, Livni G, Ashkenazi S. Seroepidemiology of varicella-zoster virus antibodies among health-care workers and day-care-center workers. Epidemiol Infect. 2004 Dec;132(6):1135-8.
Efrat M, Tepper S, Birk RZ. From fat cell biology to public health preventive strategies - pinpointing the critical period for obesity prevention. J Pediatr Endocrinol Metab. 2013;26(3-4):197-209.
Tepper S, Shahar DR, Geva D, Avizohar O, Nodelman M, Segal E, Ish-Shalom S. Identifying the threshold for vitamin D insufficiency in relation to cardiometabolic markers. Nutr Metab Carbiovasc. Dis. 2014; 24(5): 489-94.
Tepper S, Shahar DR, Geva D, Ish-Shalom S. Predictors of serum 25(OH)D increase following bimonthly supplementation with 100,000 IU vitamin D in healthy men aged 25-65 years. J Steroid Biochem Mol Biol. 2014; 144 Pt A:163-6..
Geva D, Shahar DR, Harris T, Tepper S, Molenberghs G, Friger M. Snapshot of statistical methods used in geriatric cohort studies: How do we treat missing data in data in publications? Int J of Stat in Medical Res. 2013; 2(4):289-296.
Tepper S, Shahar DR, Geva D, Ish-Shalom S. Differences in HOMA and insulin levels following vitamin D supplementation in healthy† men: A randomized, double-blind controlled trial. Diabetes Obes Metab 2016; 18(6): 633-7. IF=6.36, 14/128, Q1 (Endocrinology & Metabolism).
Tepper S, Dabush Y, Shahar DR, Endevelt R, Geva D, Ish-Shalom S. Vitamin D status and quality of life in healthy male high tech employees. Nutrients 2016; 8(6): 366.  IF=3.76, 16/78 Q1 (Nutrition & Dietetics).
Tepper, S, Alter Sivashensky, A., Rivkah Shahar, D., Geva, D., and Cukierman-Yaffe, T. The association between the Mediterranean diet and the risk of falls and physical function indices in older type 2 diabetic people varies by age. Nutrients 2018; 10(6): 767. IF=4.196, 18/81, Q1 (Nutrition & Dietetics).
Aran, A., Eylon, M., Harel, M., Polianski, L., Nemirovski, A., Tepper, S., Schnapp, A., Cassuto, H., Wattad, N. and Tam, J. (2019). Lower circulating endocannabinoid levels in children with autism spectrum disorder. Molecular autism, 2019; 10(1): 2. 
Golan M, Tepper S. (2019). Treatment of Anorexia Nervosa in an Ultra-Orthodox Adolescent Male. Archives of Clinical and Medical Case Reports 3: 472-480.
Shaharabany, B., Tepper, S., Berman, S., and Golan, M. (2020). The risk of developing disordered eating following a family-based program among children with overweight and obesity and their siblings: Retrospective and prospective analyses. Obesity Research & Clinical Practice.
Tepper S., Kaufman-Shriqui V., and Danit Rivka Shahar (2020). Mapping Young Adults' Concerns and Attitudes toward Food-Related Sustainability Issues in Israel: Implications for Food Policy. Nutrients 12(10), 3190.
Tepper, S., Geva, D., Shahar, D. R., Shepon, A., Mendelsohn, O., Golan, M., Adler D, Golan R. (2021). The SHED Index: a tool for assessing a Sustainable HEalthy Diet. European Journal of Nutrition, 1-13.
Tepper, S., Kissinger, M., Avital, K., & Shahar, D. R. (2022). The Environmental Footprint Associated With the Mediterranean Diet, EAT-Lancet Diet, and the Sustainable Healthy Diet Index: A Population-Based Study. Frontiers in Nutrition, 951.